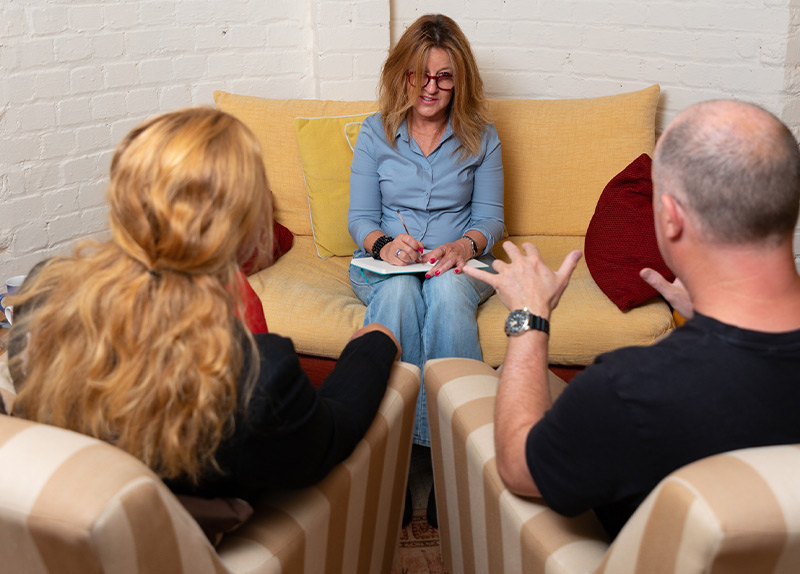 Couples Therapy Work
Couples attend couples therapy when they find themselves unable to address the conflicts in their relationship in a constructive and forward-moving manner.
For example, one or both of you may be engaging in poor communication methods, such as pursuing/withdrawing, defensiveness, criticism, stonewalling or contempt. There may also be issues around dependency, co-dependency, difficulty with expressing your needs or having your needs met by your partner, or your ability to express your own authentic self within the relationship.
I offer Emotionally Focused Couples Therapy, based on my extensive specialist training. This model includes awareness of how your early attachment histories are playing out in your relationship, but the focus is on the relationship rather than on your individual issues per se. Thus attending couples sessions is not a substitute for also doing your own individual therapeutic work.
What happens in couples therapy?
If both of you feel ready to make the attempt to resolve the difficulties and conflicts in your relationship, we can meet for an assessment session. This work requires a commitment from all three of us to meet either weekly or fortnightly for 6-12 months, depending on the condition of your relationship. Sometimes the outcome is that the couple finds new ways to build and cement their relationship, and it becomes clear whether or not the relationship has the potential for a longterm future. If the outcome is that you decide to part, we can create rules for engagement so that further conflict can be avoided.
At the beginning of our work together, I will meet with both of you jointly, and then with each of you individually in order to take an attachment history.
During the sessions you will learn new ways to look after your relationship, and you will perceive each other differently. You will understand the impact of your emotional history and your communication methods upon your partner, and learn to modify them to bring you much better results. You will also have homework assignments to practice between sessions.
Fees: Introductory assessment package, of one joint (75 minutes) and two individual sessions (60 minutes per person) is £214.50 including VAT. All further joint sessions are £90.00.